Still looking for personalized gifts?
This customized clay dolls from your photo is probably your best choice! 
Creat your own handmade Clay dolls. 
Turn your favorite photos into Clay dolls! Perfect for all occasions - from 🎅🏼festival to 👨🏽‍🎓graduation gift, 🎂birthdays to 👰weddings, 👩‍❤️‍💋‍👨anniversaries to 👼new babies! You definitely don't want to miss out on.

🎁

Perfect Gift - Whether it's for a birthday or Christmas, give them a gift they'll love!

❤️

Share - Post your own masterpiece to Facebook and watch LIKES pour in!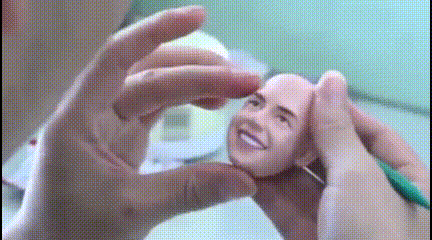 Pure Handmade Craft
On the basis of raw materials, our craftsman with decades of experience can create various lifelike "clay dolls" with hands and simple tools according to the photos provided by customers. 
Handmade customization is undoubtedly the most thoughtful gift.
Custom your own clay dolls from photos now!

Description

•Since this is full-body customization, You can upload HD full-body photos, or you can upload HD head photos plus your favorite custom photos. Whatever you can imagine, we can do it.
As shown in the photos below:
If you have other customization requirements. Other customized photos can be emailing the image to support@customclaydolls.com. A high-resolution image will work best. Please include your order number with your email. You are our priority, we will strive to make you happy and provide 100% satisfactory service.
•The Stationary Head can make for any hairstyles, and the Bobble Head hair can only be designed to the shoulder.
Clay Dolls Custom Free Accessories

•Small accessories on the promised product will not charge any extra fees, such as helmets, hats, glasses, sunglasses, base inscription,etc.
Clay Dolls Custom Proofing Service
•Proofing is the utmost important process to ensure the best likeness and highest quality of your custom bobbleheads, you will have a 100% satisfactory proofing service.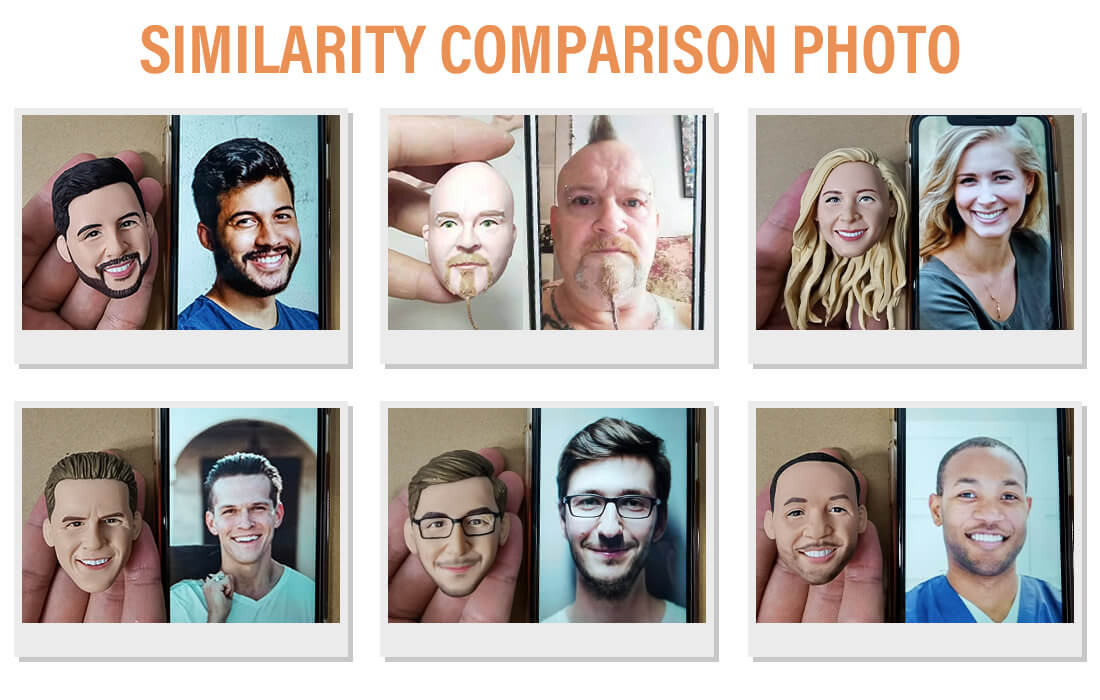 Clay Dolls Custom Material

•We use polymer clay that meets the highest industry standards, it's a non-toxic, multi-color, and environmentally friendly convertible material that makes your bobblehead very alive-looking.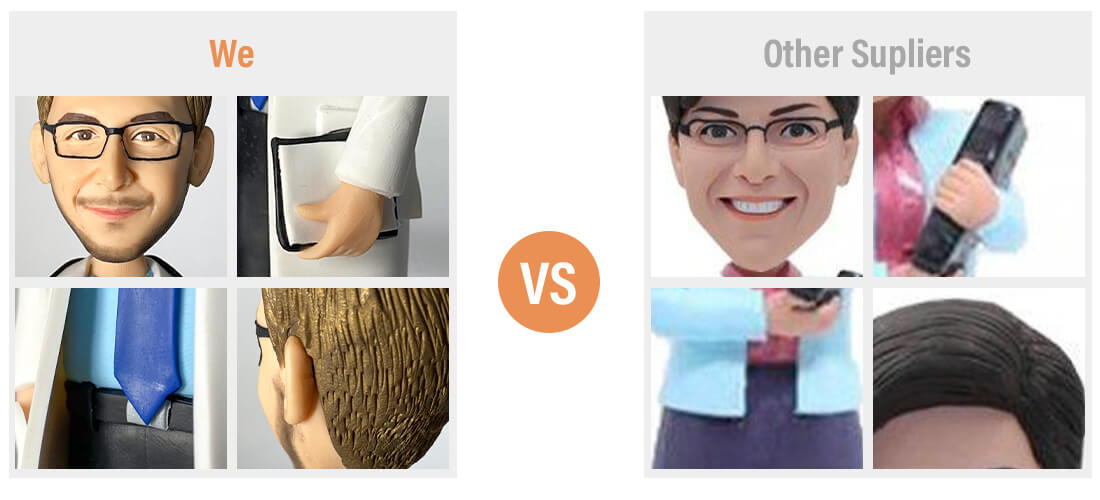 Clay Dolls Custom Size
•The size is the stature of the person standing from head to toe, most of our bobbleheads are between 6-9inches.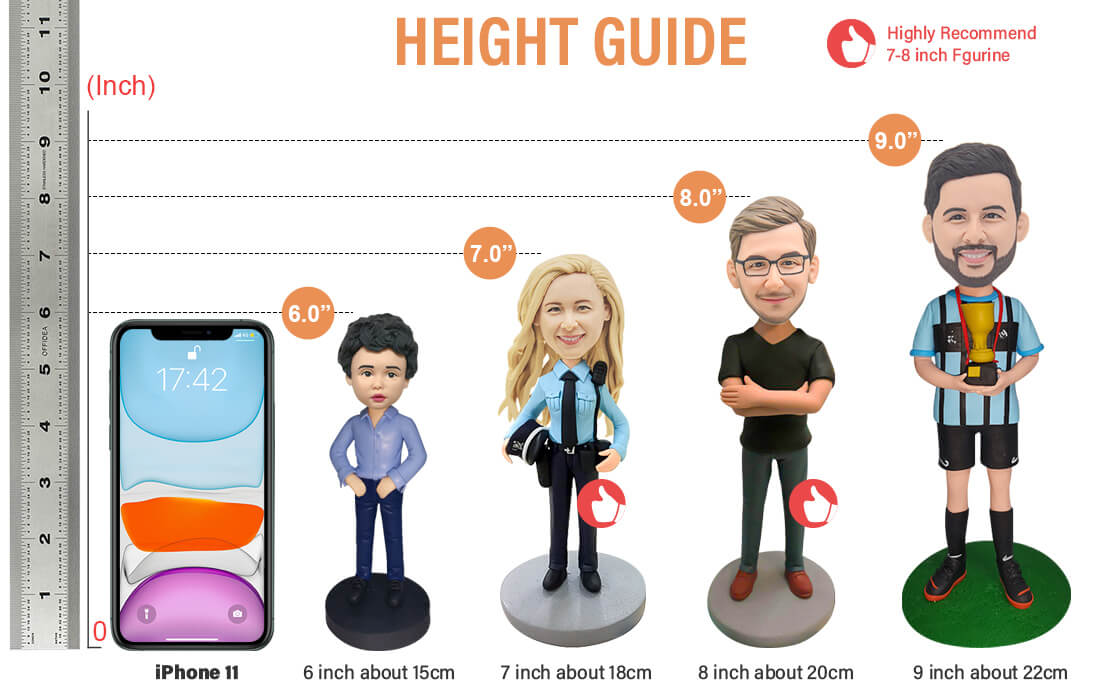 Clay Dolls Custom craft and details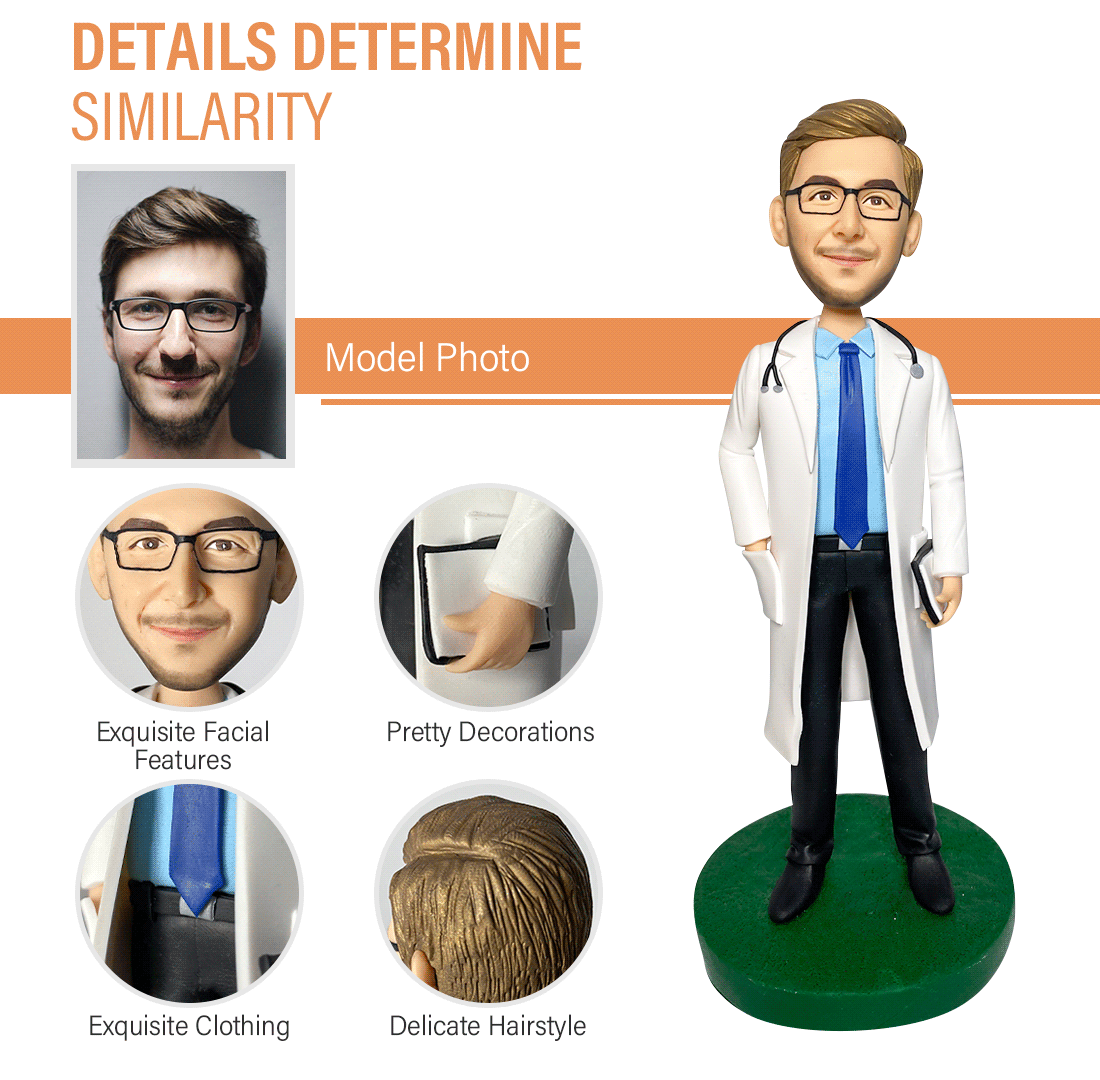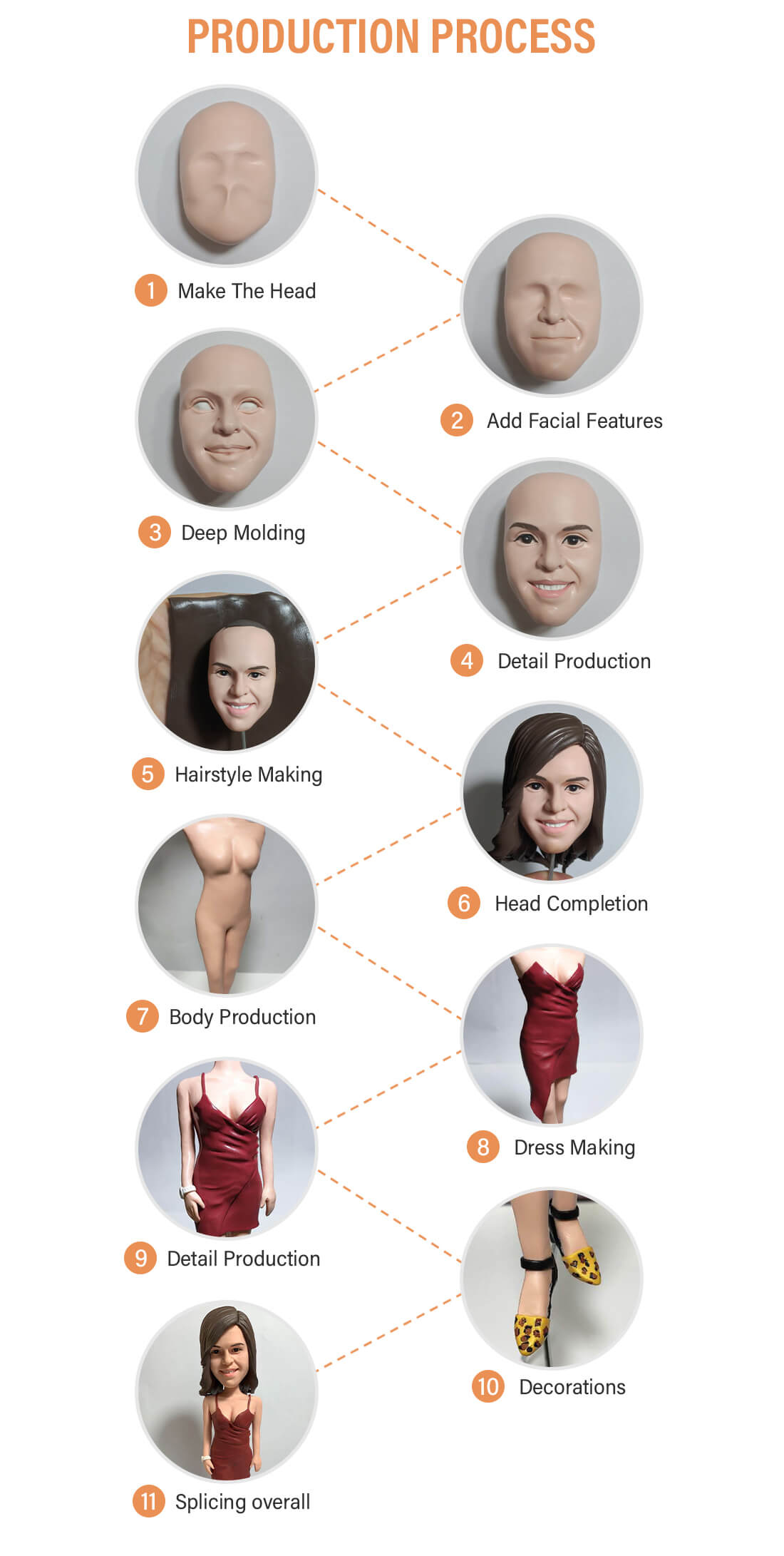 Customize a unique gift today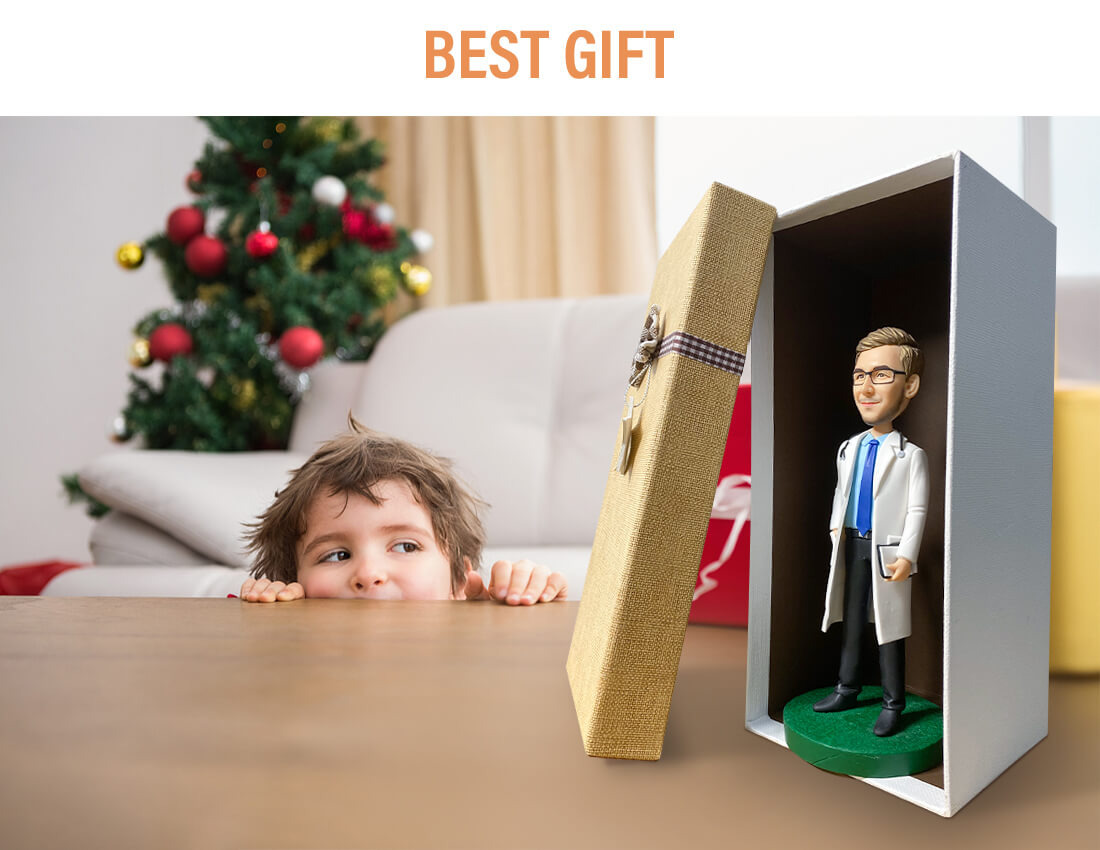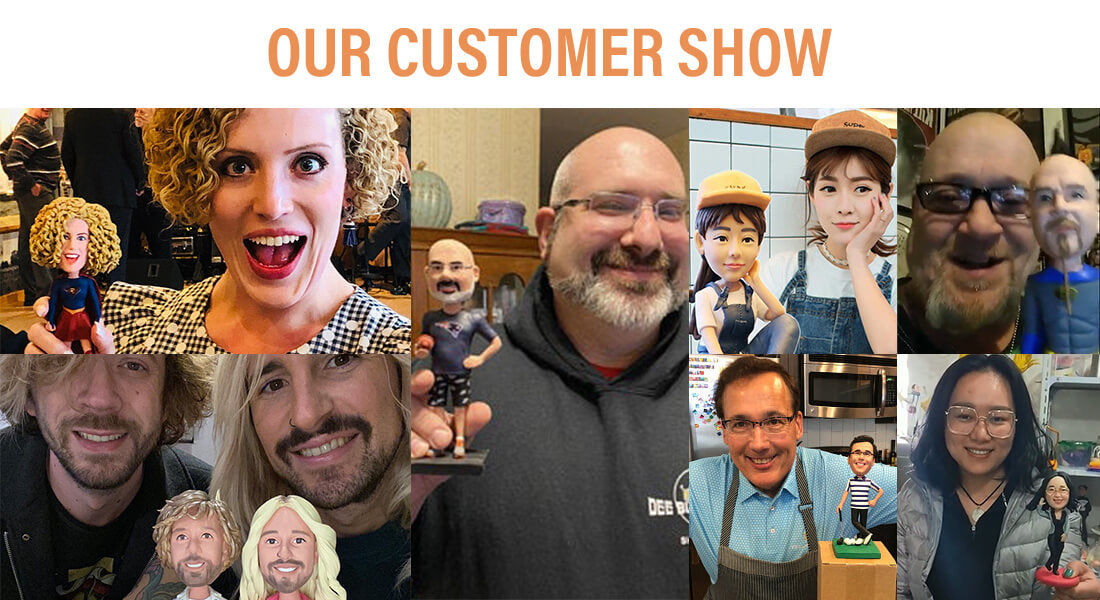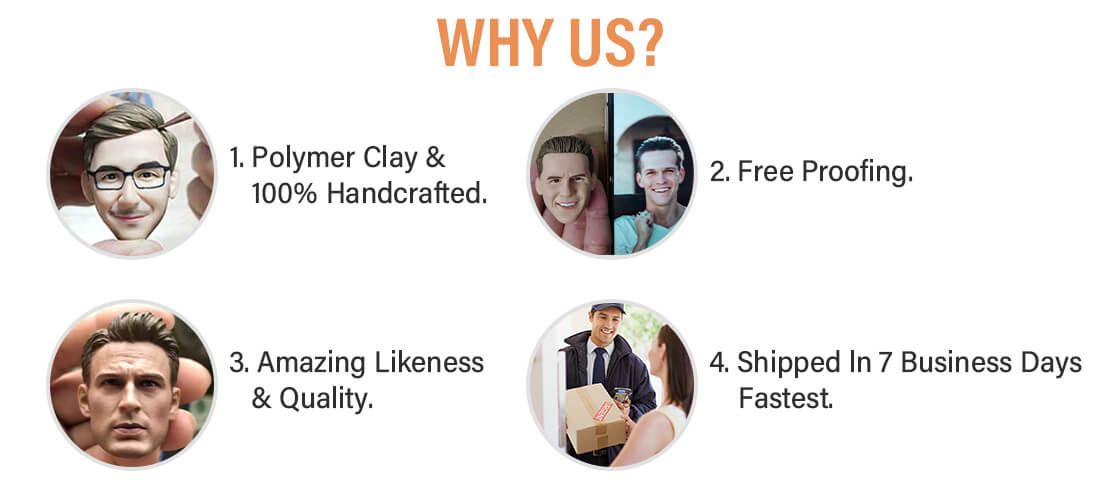 Head to Toe Custom Wedding clay dolls 1 People, Custom 1 People clay dolls Whatever You Want. If You Do not Like Our Pre-made Model Display on Our Websit, You Can Choose "Head to Toe Custom", You only Need to Upload Your Facial Picture, Action Picture, Clothes Picture or Drawing Picture, Then You Can Get Your Customized clay dolls Realizing Your Best Likeness.

We offers the best selection of high-quality Collectible & Custom clay dolls available anywhere. Custom clay dolls Any Style, Wedding clay dolls, Couple clay dolls, Work & Office clay dolls, Groomsman & Bridesmaid clay dolls Gifts, Wedding Cake Toppers, pets clay dolls, Military clay dolls, Personalized clay dolls, Music clay dolls, Kids clay dolls, Family clay dolls, Animal & Pet clay dolls and Many More.

Fully Handmade Custom Personalized clay dolls from your Photo single or double or team member.Just upload your photos and select the hair, eyes and skin color for your clay dolls.
FAQ to know more about us👉👉👉https://customclaydolls.com/pages/faq
100% Custom From The Photo You Provide & Free Proof
Our craftsman will custom clay doll according to the photo you provide. After finished it, our service will send you the free proof with email to confirm. If you need modify, our craftsman will modify it untile you are satisfied. 
Money back GUARANTEE:
We offer a "No questions asked" money back guarantee that is valid during the creation process of your custom figurine. This means that you can cancel your order anytime pre-shipping. In order to avoid non-serious orders, a cancellation fee of 40% will be deducted from the payment you made when ordering. This refund policy does not apply for bulk orders.
We use the world's most popular and secure payment methods. 

If you have any questions, please feel free to contact us with email support@comepainting.com.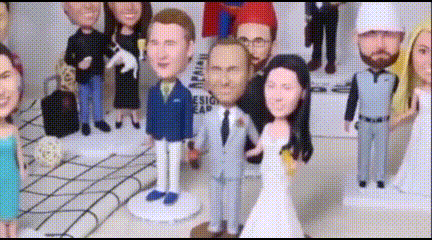 CUSTOM CLAY DOLLS
Q: How long does it take to receive my Clay Dolls Custom?
A: There are several options for the speed of sculpting and shipping during you place a order. It will take at least 15-40 business days to get your Clay Dolls Custom from the next day you place your order.

The time you receive your Clay Dolls Custom
=Sculpture time +modify time + shipping time

Sculpture Service Option:
①Vip sculpture service: faster providing face proof within 5 business days.
②Normal sculpture service: providing face proof within 10-15 business days.

Shipping Service Option:
①FEDEX shipping: usually take 5-7 business days
②Standard shipping: usually take 15-20 business days

While we offer unlimited free revisions and a complimentary proofing process, every change will require additional 2-5 business days.
Q:What is the difference between "Custom Based Photo" and "Custom Option"?
A: "Custom Based Photo" is a quick customization option, we will customize it according to the character of the photos you provide (such as the character's eye color, hair color, etc.)

"Custom Option" requires you to select character features and add related accessories (our sculptor can know more clearly what you want)
Q: If i can not choose the correct skin color/hair color, what should i do?
A: No worry.you can choose the similar color and then leave the message about the color on the comment box. Artist will make your dolls hair/eyes color according to your statement and picture.
Q: If the photo can not upload,what should i do?
A: In this case, you can send the photo to this email directly.
Q: How many photo i should send?
A: One front view and a side view that would be good. If you do not many photos, you can only send the front view.
Q: Do you provide proof of the Clay Dolls Custom?
A: Due to the Clay Dolls Custom is completely handmade custom product, we can't guarantee 100% similarity to the image you provide.
Within 7-15 working days of completing the face of your bobblehead, we will send an email confirming the proof of the head. (only the head).
Please reply within 48 hours to approve or disapprove. During this period, we will follow your request to modify the proof, until you confirm to approve.
If you didn't reply within 48 hours, we will default that you have approve the proof and shipped.
 1: The proof has approved: That means to you approved with the proof and will not modify to it.
 2: The proof approved by default: That means to we default that you accepted the original proof.
 * In the above circumstances, if you receiving the Clay Dolls Custom and complain dissimilar, we will not provide redo and refund services.
Q: What if I don't like my Clay Dolls Custom? Do you offer refunds?
 A: Yes. We will refund your money if you decide at any time during the creation process (pre-shipping) that you don't like your Clay Dolls Custom. Only a 40% cancellation fee applies to avoid non-serious "fun orders". No refunds are possible after you have approved and received your bobblehead.
Q: Please explain your festival (such as Christmas) delivery schedule.
A: The advertised dates for the festival delivery schedule require the customer to respond to our emails within 24 hours. The schedule includes one revision. If you require multiple revisions, please be aware this could affect your Christmas delivery.
Q: What are the Clay Dolls Customs made of?
A: We use high-quality polymer clay, a type of nontoxic, polychrome, and transformable material that can make your Clay Dolls Custom very vivid and alive-looking.

Q: How many photos do I have to send?
A: One clear front view picture is preferable. If you have another photo, please contact us.


Q: Can I make additional requests?
A: If you have any special requests on the order, feel free to write them down on the "Note" box in the product page or send email to support@comepainting.com.


Q: Can I change the pose/uniform of the Clay Dolls Custom?
A: For the full custom Clay Dolls, we allow a free posture change within 48 hours of placing the order. After 48 hours your order will be subject to an additional charge of $15, in which case the artist will not be able to use the premade body and will have to sculpt a new body.

Q: Can I change the face photo?
A: We allow a free photo change within 48 hours of placing the order. After 48 hours your order will be subject to an additional charge of $30, in which case the artist needs to remade the Clay Dolls because the expression on the face is different in each photo.

Q: Can I add an accessory to my Clay Dolls Custom?
A: Yes, please write it down on your comments and send us a picture for our reference. Small items like books, glasses, and hats are free. We only charge for big accessories like chairs, guitars, pets, etc.
Q: Do you accept payments other than by PayPal?
A: Besides PayPal, you can also pay your order by credit card.

Q: Can I make any changes to the Clay Dolls Custom?
A: If you are dissatisfied with your Clay Dolls Custom, simply point out why you think the Clay Dolls Custom doesn't look like the real person, and we will make the changes as per your comments, and send you new proofs until you are satisfied with the item.

Q: What if my bobblehead is broken when I receive it in the parcel?
A: We have a very low rate of breakage. Each Clay Dolls Custom is carefully wrapped in PEP foam film and packed in a foam protected hard box. If you received a broken Clay Dolls Custom, please submit a support ticket, and attach clear photos of the items that represent a quality issue within 48 hours of receipt, we are happy to help.

All merchandise is carefully packaged for shipment, and damage case seldom happens. If you get damaged bobbleheads, please take photos and contact us soon, we will arrange to Redo it for free to replace. (Digital photos of damaged product is necessary for our damage claims. Proofs must be sent to us within 48 hours after you get it).
Q: Which countries does comepainting.com ship to?
A: Australia, Austria, Belgium, British, Brazil, Canada, Chile, China, Colombia, Cyprus, Denmark, Egypt, Finland, France, Germany, Greece, Hong Kong, India, Indonesia, Ireland, Israel, Italy, Japan, Kenya, Korea, Mexico, Netherlands, New Zealand, Norway, Philippines, Poland, Portugal, Saudi Arabia, Singapore, South Africa, Spain, Sweden, Switzerland, Thailand, United Arab Emirates, United Kingdom, United States, United States Minor Outlying Islands

*Please note: The recipient of an international shipment may be subject to a value-added tax (VAT) or import taxes, customs duties, and fees levied by the destination country.

These charges must be paid for by the recipient. comepainting.com has no control over these charges, nor can we predict what they might be.

Q: Can I make a Clay Dolls Custom of a celebrity or professional athlete?
A: We are unable to create a custom bobblehead of a celebrity or a professional athlete without their permission. If you can verify the relationship and obtain permission, we will provide an authorization form.

If this will not work for you, we can create a Clay Dolls Custom of a celebrity or professional athlete's body (same clothing, pose, body type, etc.) with a custom head of a friend, coworker, spouse, yourself, etc.